Arbor Mist
Arbor Mist is a blend of varietal wines such as Merlot, White Merlot, Zinfandel, White Zinfandel, or Chardonnay that is combined with natural fruit flavors like Blackberry, Cranberry, Strawberry, Peach, Tropical Fruits, Sangria, Exotic Fruits or Melon. These lightly carbonated, slightly sweetened wine products are lower alcohol than many other wines and have a refreshing taste that is perfect for all social get-togethers, relaxing with friends, and as a personal indulgence at the end of a busy day.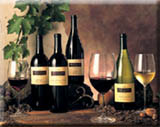 Benziger
Benziger Family Winery. As one of California's largest winemaking families in one of the smallest appellations - Sonoma Mountain - we strive to make both a visit to Benziger and the wines that you'll taste while you're here unforgettable experiences. Our wines have been critically acclaimed for their distinct regional and varietal personality; a result of our commitment to sustainable agricultural practices and site-sensitive winemaking; and our home in Glen Ellen has been hailed as a favorite Wine Country visit. If you can't make it in person, we hope this site will shed a little light on our passion and pride. We hope you enjoy. - The Benzigers
Cakebread
Jack Cakebread came to photograph the Napa Valley twenty-five years ago for a book and while he was here, he casually mentioned his interest in owning a vineyard to some family friends who had a ranch in Rutherford. When he returned home that afternoon, the phone rang and it was the family friends offering to sell their property. He headed back up to the valley that same afternoon and Cakebread Cellars was born.